Photographs by Robert Damish
Soap - a duo show with Maria Gondek
16.09-09.10 2021, SIRIN Gallery x Nicolaj Bo.
If a kitchen sink could speak, what would it say? In the exhibition "Soap" Maria Gondek and Emilia Bergmark investigate the cultural and psychological narratives of domestic life, highlighting the kitchen as, either in real or imagined terms, the heart of the home.
The concept of the 'conversation kitchen' (samtalekøkkenet) was introduced in Denmark in the 1990s as a step up from a utilitarian workstation and exclusive housewife territory. The 'conversation kitchen' was a new social gathering place for the entire family, and the grand, minimalistic designer interiors, complete with cooking islands and glossy cookbooks displays, became not only a functional top priority for the modern family but a reflection of a successful life and contemporary lifestyle. This transition and gradual commodification of private life became a creative catalyst for both Bergmark and Gondek. The artists actively explore the grey area between commodity and art, and work to uncover the phenomenological aspects of design theory: how we shape and animate things – and, in turn, how things shape and animate us.
In the exhibition "Soap" we are introduced, among other things, to a kitchen sink with screenwriter ambitions, who is directing a play with her friends Mr. Muscle, Ariel, Ajax, and Vanish as the main protagonists. Bergmark's sculptural sound installation humorously references British 1950's 'kitchen sink dramas' and American 'soap operas', exposing central feminist issues of agency and division of labour. As for Gondek, she has created sculptural versions of male and female anxieties put together by pipes and tubes - materials that are integrated into the kitchen but hidden behind walls. Gondek reflects on degrees of intimacy in the wider domain of the home, nuancing the relation between private and public, desire and control, between commodity and happiness.
Thus "Soap" is an exhibition that foregrounds the situatedness of the kitchen within the complex, emotional, political, and temporal topography of domestic life, shedding light on how the kitchen, and the home in general, can become a repository for, and representative of human anxieties, dreams, and fears. As the whole exhibition unfolds around a kitchen, the collaboration with Nicolaj Bo continues the dialogue between the field of interior design and contemporary art that both SIRIN Gallery and the two artists are engaged with.
Text by Nanna Balslev Strøjer

In collaboration with
Sirin Gallery
Supported by Statens Kunstfond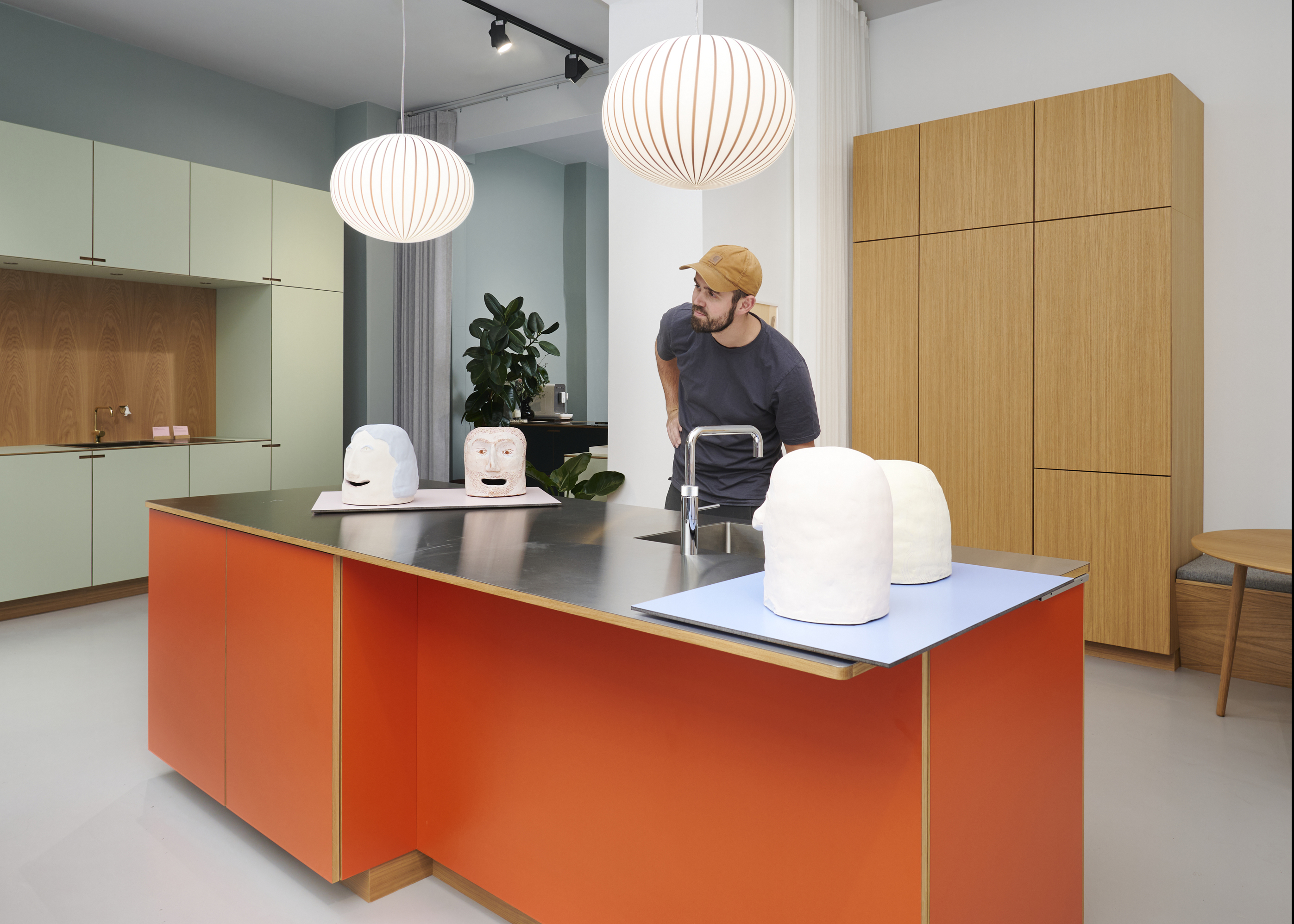 Emilia Bergmark
Kitchen Sink Realism, 2021

Three reverse glass paintings with riso prints in frames

The Kitchen Sink Realism-series reference the British cultural movement of the same name developed in the late 1950s and early 1960s. The sub-term 'Kitchen Sink Painters' was a term applied to a group of artists who painted domestic scenes of everyday life.

The series comprises three kitchen still lives that combine riso-print with reverse glass painting. Reverse glass painting is a technique where the paint is applied directly onto the back-side of the glass and it creates an extra layer of depth and perspective in the flat surface of the painting.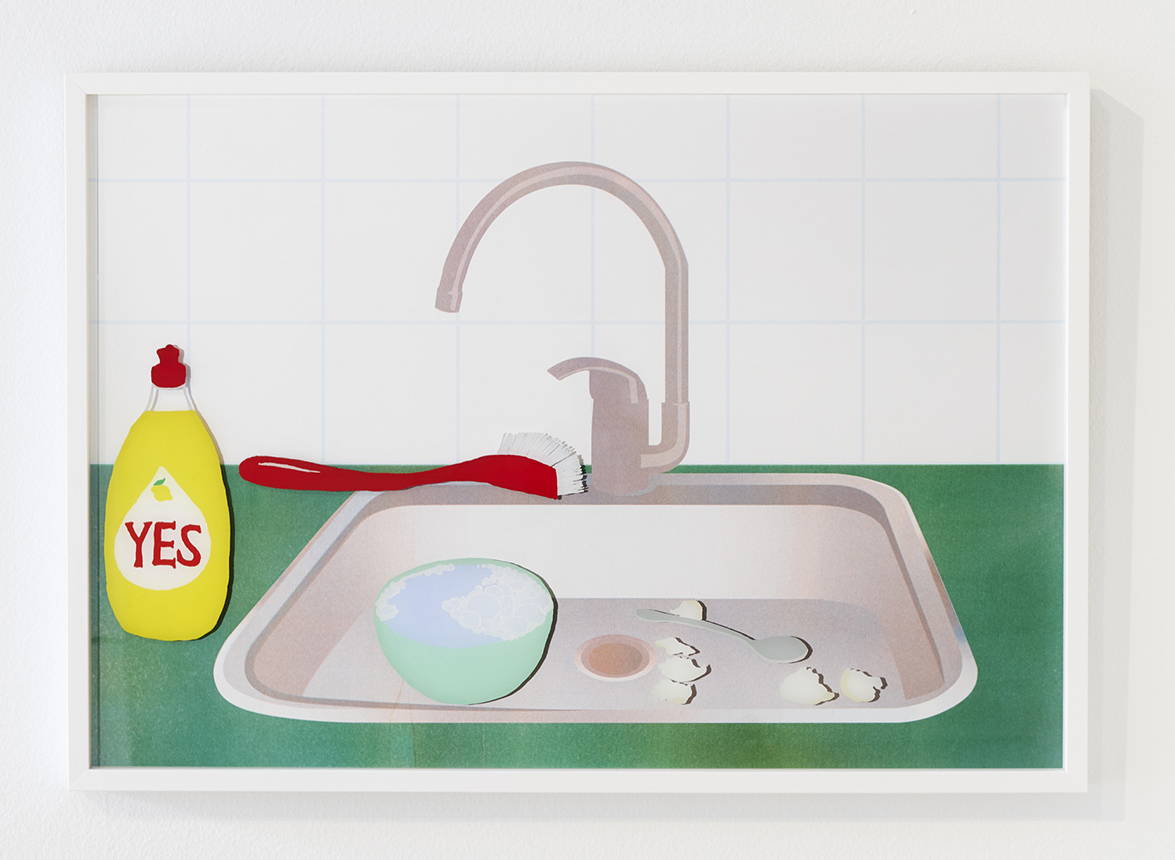 Emilia Bergmark
Soap (Kitchen Sink Drama), 2021

Kitchen, sink with built-in speaker, four ceramic heads depicting the characters Mr. Muscle, Vanish, Ajax and Ariel, each with a speaker inside, five channel sound-track (18 min)

Soap is a multichannel sound-track installation and kitchen sink drama. The narrator in this drama is a talking kitchen sink with screenwriter ambitions who has composed a soap opera with a cast of "her friends, the cleaning products"; Vanish, Mr. Muscle, Ariel and Ajax. The story unfolds to reveal a triangle drama between the four characters depicted in the installation as talking ceramic heads.
The work exposes central feminist issues of agency and division of labour and the form draws on references to American soap operas and the so-called 'kitchen sink dramas' - a sub-genre of social realism popularised in television, theatre and film in mid-century Britain depicting domestic situations of the working class.

Written and directed by Emilia Bergmark.
Voice actress: Lisa Lind Dunbar.
Technical assistance: Liam Amner.

The work was produced at Inter Art Center, Malmö.



Emilia Bergmark
Still Life with Flour, 2021

Reverse glass painting and riso print in frame

Still Life with Flour depicts a setup of household staples and kitchen utensils. The work draws reference to two main genres in art history: the classic genre of still-life painting that emerged as a professional specialisation in Western painting in the late 16th century, and the Pop Art movement that emerged as a challenge to traditional fine art by including imagery from popular and mass culture, such as advertising, comic books and mundane mass-produced objects. The work is an homage to the artist's grandfather Kurt Bergmark who took up painting when he retired and created a work with a similar composition.





Emilia Bergmark
Overturned Head (It's too much to tell you), 2021

Ceramic sculpture, carnivous plant, aloe, orchid, cat grass, potato

A sculpted head containing an arrangement of plants that spells out the sentence "It's too much to tell you" in the language of flowers.




Maria Gondek
Drained (reflection), 2021

Mirror, shower drain, water, pump

The bathroom is the place we go to cry – to turn on the water works. A private room where we can let out the emotions we do not wish to show to the world. Crying is unique to human beings- a reaction developed to signal to others that we are in distress and in need of other's support. However, in western society crying is commonly seen as a weakness and a symptom of not being able to control your emotions. Therefore, we keep the crying to ourselves, in our private chambers. Drained (reflection is built as a closed circuit, keeping the water flowing at all times, much like the never-ending onset of human emotions.




Maria Gondek

House Plant (Technostress), 2021



Smokey quartz crystal, heat sink, thermoelectric cooler, AC/DC adapters, LED PC fans, steel unit.

While the kitchen is considered 'the heart of the home', technology is increasingly the basis of our social lives, possibly making the internet router the true heart of the home. Technology is so much a part of our DNA that we cannot imagine a life without it. Technostress is a modern condition caused by an inability to cope with this speedy evolution of new technology. In the sculpture House Plant (Technostress) a Smokey Quartz rests on a homebuilt cooling device, made from computer parts. The device keeps the temperature of the crystal below freezing, making the surrounding moisture in the air accumulate into a layer of frost.

In the world of crystal healing the Smokey Quartz is said to absorb significant amounts of negative energy, bring comfort in difficult times and provide a shield against emotional and environmental stress. In the world of technology, the quartz crystal is used in mechanisms for time-keeping as a crystal oscillator, making sure that the device - and its user - are always on time. It can be found inside billions of electronic devices; watches, computers, rockets, smart phones and navigation systems.



Maria Gondek

Under Pressure (exhaust), 2021

Waste pipes, elastic fitness band, 1/2'' tap connector, heavy duty hand pump, car mat


Under Pressure (exhaust) and Under Pressure (relief valve make a sculptural diptych exploring the gendered social and psychological anxieties of age and bodily decline - the midlife crisis if you will.

The sculptures are made of pipes and tubes, structures that are usually hidden away in our walls and basements. Piping systems that keep our houses and cars up and running. Similarly, the internal piping of the human anatomy keeps our bodies functioning. As we age, our insides age too, which may cause the piping of intestines and veins to reverberate and gurgle, an embarrassing squeak leaking from our insides to the outside world.

Under Pressure (exhaust) borrows its design from the exhaust system of a car and Gondek invites the viewer to push or pull the pump to create a loud, penetrating noise, a noise which might seem fun and frivolous in some settings but, if involuntary, highly awkward.



Maria Gondek
Under Pressure (relief valve), 2021

Steam, water, boilers, copper pipes, 1/2" tap connector, Unistrut steel brackets


Under Pressure (relief valve) borrows its shape from human ovaries. When the work is activated the boiling water in the industrial boilers creates steam, which activates a flute, that lets out a wailing sound. This flute in fact acts as a relief valve, it lets out the steam, keeping the pressure down and the system from collapsing.



Maria Gondek
Charms, 2021

Five carved soaps on brass brackets

The Charm Series consists of five hand carved figures made of five different types of soap. Each figure is based on an animal residing in the area around the Glasgow home of the artist. They are animals that have adapted to, and thrive in, the urban environment - either as pets or as indirect beneficiaries of human activity.

Carved animal talismans have been found amongst artifacts from ancient cultures and they are thought to have been spiritual objects loaded with qualities that the owner or maker might want to inhabit; strong and vicious, clever and organised, social and generous etc.

The Charm Series reflects the spirituality of the modern urban human that may, in difficult times, feel the need for
a modern talisman. A talisman that is cleansing and anti-bacterial, qualities that are literally protecting us from viruses, sickness and death.