Photographs by David Stjernholm
Burnout, 2019
Kunsthal 44 Møen, Askeby, Denmark

'BURNOUT is a newly commissioned installation by the Swedish artist Emilia Bergmark. The work, inspired by Bergmark's interest in humans' commodification of nature is conceived as an allegorical narrative in response to the landscapes around us, which are permeated, conceived and organised by human logic and production apparatuses.' Excerpt from curatorial text by Julia Rodrigues.

The exhibition was realised with the support of Statens Kunstfond and Grosserer L.F. Foghts Fond.
Sound piece, duration 20 minutes, plinth, two microphones, speakers, a female Western Honey Bee (Apis Mellifera) and a male Large Earth Bumblebee (Bombus Terrestris). Burnout is an absurdist-comical sound installation, a duologue between a burnt-out worker bee from the Danish honey industry and a male bumblebee from Sweden. In a heated monologue, the worker bee describes the pressure involved in keeping up with a high-speed working life, which has resulted in burnout. After she is interrupted in her speech by a rowdy Swedish bumblebee, disagreements commence. The text touches on topics such as the industrialisation of agriculture and the mysterious bee death. Voice actors are Lisa Lind Dunbar and David Wiberg, recording by Andrea Novel.
Fields, 2019
Room divider depicting cultivated fields, machine knitted using naturally dyed wool, in pine wood frame.

The work takes inspiration from the screens with landscape motifs that were popular in wealthy homes in Victorian England, a tradition imported from China. In Fields the transcendental character of nature is reduced to a piece of decoration, much in the same way that humans tend to reduce nature to something that can be exploited for their own purpose and personal gain. In order to make the piece, Bergmark was taught the art of machine knitting by Kristine Suhr on Møn. The yarn was naturally dyed with the help of the artist's mother.
Nature Morte, 2019
Archival pigment print, in walnut frame.

Nature Morte is a photograph that recreates Abraham Mignon's Still Life with Flowers and a Watch (1660 – 1679) using flowers from the contemporary Dutch flower industry and insects from the entomological collection of Lund University. The Dutch Golden Age still-life painters immortalised expensive cut flowers – often mixing flowers from different seasons in one bouquet, in order to emphasise the illusory nature of the painting. In this painting, Abraham Mignon painted in insects and a watch alongside the flowers to remind the onlooker that everything is ephemeral. In our age, these symbols are charged with a different meaning. Many of the depicted insects are endangered, and the modern flower industry produces fresh, cheap, flowers all year round, making seasons a thing of the past. The photograph is taken in fluorescent UV light, providing an impression of how a bee, which unlike humans possesses the ability to perceive ultra-violet light, would see the flowers. The flowers are arranged by florist Rebecca Nørgaard, photographer David Stjernholm.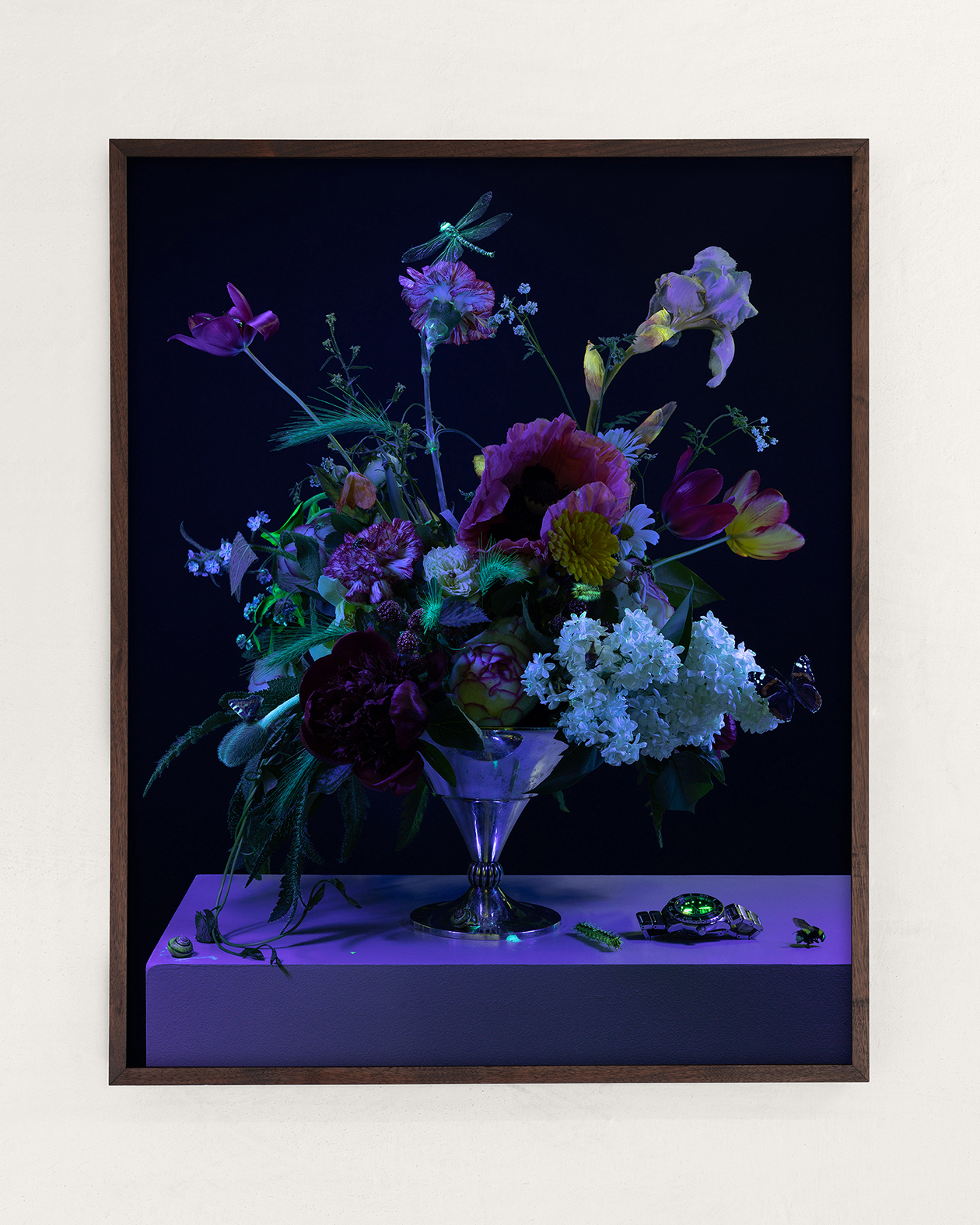 Hexapod, 2019
Bench with six legs, made from teak wood and upholstered with woollen fabric.

A Hexapod is a thing with six legs. It is also a term for 'insect'. In this work Bergmark speculates that if humans, a species with four limbs, make their chairs and benches with four legs, wouldn't a species with six legs then have a preference for a six-legged bench?

Nectar Well by Maria Gondek, 2019
Drinking fountain containing sugar water. Water container, pig nipple, drip tray, sugar water, galvanised steel.As part of the exhibition Bergmark has invited the artist Maria Gondek to make a work for the installation. Gondek's work Nectar Well is an ambiguous juxtaposition of industrial farming and the iconic office water cooler. The work invites the visitors to take a sip of sugar water, the same sugar water that honeybees are given in the honey industry in exchange for their honey.
One Time Use, 2019 Plastic cup dispenser, plastic cup disposal. Galvanised steel pipe and fitting, plastic cups, vinyl. A collaboration between Emilia Bergmark and Maria Gondek consisting of a plastic cup dispenser, and a plastic cup disposal, the work presents the problem of a culture of disposable goods. It prompts visitors to perform the act of transforming a disposable cup from an object of use to an object of waste in a matter of seconds. A plastic cup is made of carbon derived from oil. Raw oil is fossilised organic material that has undergone thermal degradation under pressure over hundreds of millions of years. The use time for the plastic cup is here between 10 seconds and 2 minutes. A plastic cup takes 450 years to decompose.
Sweet Deal, 2019 Note with a job offer written with UV marker in bee-dance notation and a performance during the opening of the exhibition

Conceived as a collaboration between Emilia Bergmark and Maria Gondek with the help of Judith Kleinemeier Sweet Deal is an art work in two parts. The first part is a note with a job offer written in UV marker in bee-dance notation. Translated to English the note reads:
'Sweet Deal!

Are you a cheerful wild bee born to be in service? Do you want to 'bee' in the center of the art world? Then THIS is the opportunity for YOU! Temp job in marketing for a local honey mead brewery at art event in Kunsthal 44 Møen, 22 of June 
4 p.m. - 6 p.m.

Unfortunately we can't offer 
payment but this is a GREAT chance to work on communication skills and make new important contacts in the art world!

Contact details below'
The second part of the work is a performance during the opening of the exhibition. Judith Kleinemeier plays the role of a solitary bee from Germany that has immigrated to Denmark with dreams of a better life and work. The bee has ended up on Møn, where she has landed a temp job in marketing, serving samples of honey mead at an art opening. The bee performs her job with lacking enthusiasm.